| | |
| --- | --- |
| Posted on 31 May, 2015 at 9:20 | |
We have had a very busy, but productive, first two weeks on our farm.  There are a zillion things to do, but fortunately we have years in which to accomplish them.
We have started digging over the first of many vegetable plots to come.  The soil seems good, though it is hard going when the field has been laid to grass for so many years.  We currently have an area nearly completed for the potatoes, and another for the McGerald's, who are eager to escape the confines of their pots.  The plan for the next week or two (weather dependent) includes carrots, runner beans and onions.  We have also planted some dill and thyme, and discovered some existing mint and basil growing in one of the flower beds.  Further surprising discoveries on the farm include a rhubarb patch and raspberry canes, both much in need of reclaiming from the surrounding brush. The apple trees have begun to bloom and we eagerly await to see if they produce any fruit.  Some extensive pruning may be in order this autumn.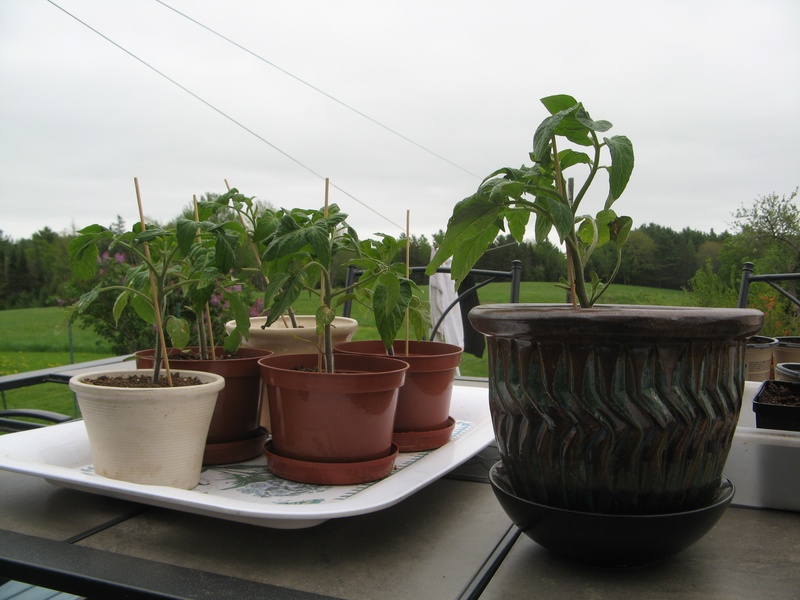 PICTURE:  THE MCGERALDS
We have reclaimed much of the apparent "junk" from the barn and workshop, and have started putting it to good use constructing compost bins and a chick run.  On Monday this last week we purchased our first chicks, 24 Rhode Island Reds.  Some of them were a week old and some just a few days old.  A very large old drawer discovered in the barn worked brilliantly as a brooding pen, and with the addition of some chicken wire (found in the workshop) we have created a warm, safe and secure environment for the babies.  The main chicken coop itself required much cleaning, but is now ready for a few repairs and a lick of paint.  This is one of our next projects, and will be ready in time for when the chicks are large enough to occupy it.
The chicks are great fun to have.  We have approached them each time with a cheery "hey, chickies" so as not to startle them by our large presence.  They have quickly become accustomed to this, and now  will happily perch on your hand and arm to peck at some food.  They make short work of any small insects that venture into their brood box, and are capable of some startling bouts of athleticism to leap up and catch tiny flies from the air.  They are starting to lose their down in favour of proper feathers.
PICTURE:  THE CHICKIES
We recently had two park wardens stop in their car on the gravel road by the farm.  They were very friendly, pleasant people, who endeared themselves to us by admiring Monkey and Zane.  We have been invited to go and visit them at their office at the national park next door, and to talk to them about the possibility of riding our future horses in their park.  A pleasant chore to add to our list!
Categories: None
/