| | |
| --- | --- |
| Posted on 18 May, 2015 at 15:05 | |
JOURNEY TO ROLLING HILL FARM
(or 900 miles with 7 tomato plants, 6 types of animal food, 5 travel bags, 4 German Shepherds, 3 Britishers, 2 squabbling cats and a python in a glass tank - sing to 12 Days of Christmas if you want!)
Cast of Characters:
McGeralds - the tomato plants
Merewyn - six-year-old female German Shepherd (currently arguing with Monkey)
Mr. Zane - 20-month-old male German Shepherd
Monkey - 19-month-old female German Shepherd (currently arguing with Merewyn)
Murphy - 15-month-old female German Shepherd (partially blind and with cognitive issues)
Merlin - 9-year-old black male domestic shorthair cat with grumpy attitude
Morgana - 6-month-old black and white female domestic shorthair cat - loves to tease Merlin
Monty - 3-year-old Ball Python
Mona - the GPS navigation system
Aunty Kath - a large Peace Lily
The Humans - Liz, Bryony and James Logan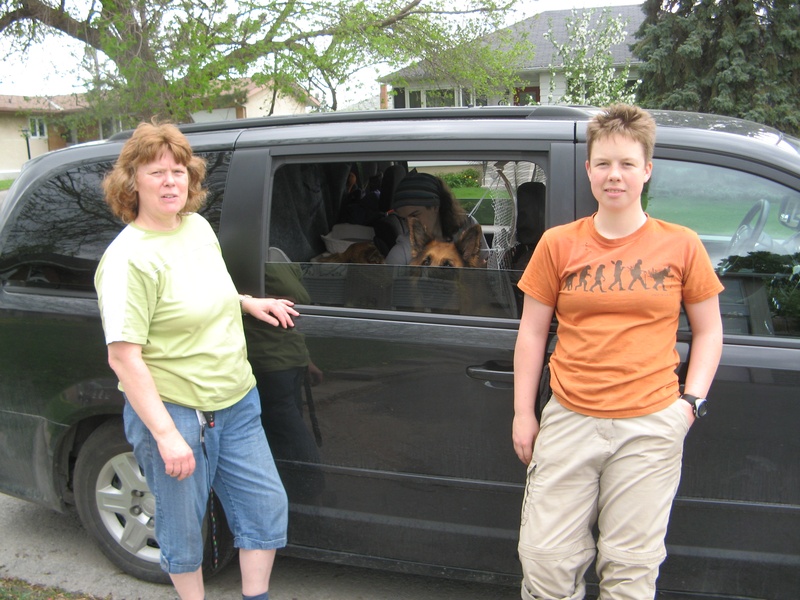 PICTURE - FEATURES LIZ ON LEFT, BRYONY ON RIGHT, JAMES IN THE CAR, WITH MEREWYN'S LARGE HEAD ON RIGHT AND MURPHY'S SMALLER HEAD ON LEFT - MONKEY AND MR. ZANE ARE OUT OF SIGHT BEHIND THE BLANKET - IN OTTAWA, JUST ABOUT TO SET OFF
Day One: Tuesday May 12, 2015
Three o'clock: Having gone through the usual process of movers and packing, plus the hassle of dividing the car into three secure sections (involving quantities of chicken wire, bars and a blanket) to separate arguing dogs and cats and keep the McGeralds safe, we thought we were ready to go. Alas, Monty had escaped his tank! A detailed search of inside car, surrounding drains and bushes, under the car, in the exhaust pipe and in the engine, were all in vain. We contemplated putting up posters in the area or asking the neighbours to watch out for a five-foot snake, but decided we would start a panic in the neighbourhood, rather than being met with the usual "Aww, I'm so sorry" that might have been the response were it a kitten or puppy that was lost. With a deadline to meet, off we set eventually at 3:30, with the front passenger being rather squished in with grumpy, but large, Merlin, a cat box and a litter tray and the McGeralds.
We arrived in Drummondville, just east of Montreal, at about 8:00 p.m. that evening. Whilst Bryony and Liz took the four dogs on two separate walks, James searched the car for the Missing Monty. Fortunately, he was found tucked in under one of the folded car seats.
The first night's hotel was amazing, though Bryony (being used to camp beds and sleeping on floors etc) complained that the pillows were too large and comfy. Bryony and Liz had a room with a sliding door opening directly on to the pool and hot tub.  
Of course, unloading and re-loading were both slightly chaotic. First, walking the dogs (in two separate groups) for half an hour in any bit of green we could find. Then transporting dogs, travel bags, feed bags, cats, tomato plants and lastly Monty to and from various hotel rooms took several trips, not including sending a lone messenger to check in and out. We were very jealous of the normal folk who simply got up, rolled out their little wheelie cases and then went on their way.
Day Two: Wednesday May 13, 2015
Having taken about two hours to walk the dogs and load up the car, we set off at about 9:00 a.m. Today we met some unusually dog-averse people in a small Subway off the highway. They did not want to allow the service dog, Merewyn, into the establishment at all. When it was pointed out that she was a service dog, they grudgingly allowed her to stay, but insisted we wait outside once we had ordered. This was in direct contrast to the very friendly people outside the Subway, who asked us lots of questions and were very complimentary about her.
The day was going well and we were making good time when disaster struck only an hour short of our final destination of the day, Fredericton! Underestimating the fuel usage of our poor overworked car dragging the U-Haul trailer up and down the New Brunswick hills, the low-fuel warning light came on far from any convenient gas stations; just our luck. Not wanting to break down on the highway we spent a frantic ten minutes trying to figure out how to tell Mona to find the nearest gas station (thank God for GPS) and managed to crawl there and refill directly. Phew.
Now, at this point Mona had clearly had enough of our shenanigans (she got most upset every time we came off the highway for a rest stop), lost contact with reality in general and the outside world in particular, and landed us on the scenic route (read: barely maintained lakeside road). Consequentially we arrived at the hotel very late and then took even longer to unload, because the next hotel had placed us on opposite sides of the building, with the sole lift in the place being in yet another completely different direction. To add insult to injury, the hotel kitchens had closed an hour earlier and we had to order in a vastly expensive pizza for our late dinner.
We also decided to add to the general commotion of unpacking and repacking by taking Aunty Kath into the hotel, as she was getting extremely squashed in the trailer and looking distinctly unhappy.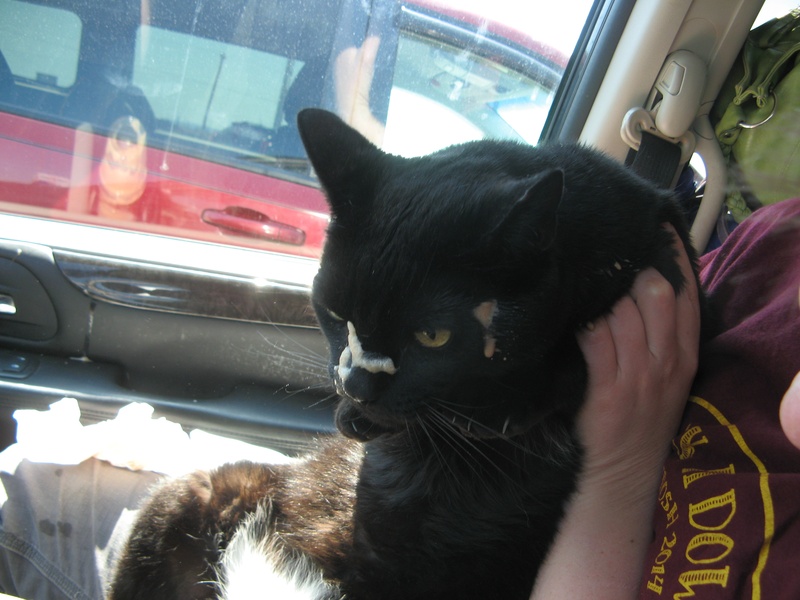 PICTURE:  FEATURES MERLIN THE GRUMPY CAT, WITH A GENUINE REASON TO BE GRUMPY FOR A CHANGE - READ ON TO FIND OUT WHY!
Day Three: Thursday May 14, 2015
The next morning, just to add to the usual excitement, Morgana escaped from James' room and made a bid for freedom out into the hotel environs. Fortunately no-one was present to see the sight of Liz, clad in bright blue dressing gown, pursing her down the hallway. Two hours later we once again managed to get everyone in the car, in high spirits for the last day of driving.
There is a lovely rest spot just west of Moncton that we stopped at for morning coffee. Just before we left, Liz tripped, holding an Ice Cap that ended up all over the head of Merlin. Bryony cleaned him off while he complained loudly, and then he shot off to sulk under the front passenger seat. However, his trials were not over. Shortly after the Ice Cap incident a sharp turn sent the cat litter flying all over Bryony's lap and, once again, Merlin's head. In protest he made a beeline for Liz's lap in the driver's seat. Due to the preoccupation required for wrestling with the litter Bryony was not fast enough to stop him. The cat dug his claws in, refused to move, and then the phone rang. What fun.
After an emergency stop to extract cat, clean up litter, and return the call, we considered ourselves roadworthy again. Somehow we made it to the last motel with no further riots (although Merlin voiced his grumpiness loudly) and settled in at the last motel to prepare for Friday and closing on our farm!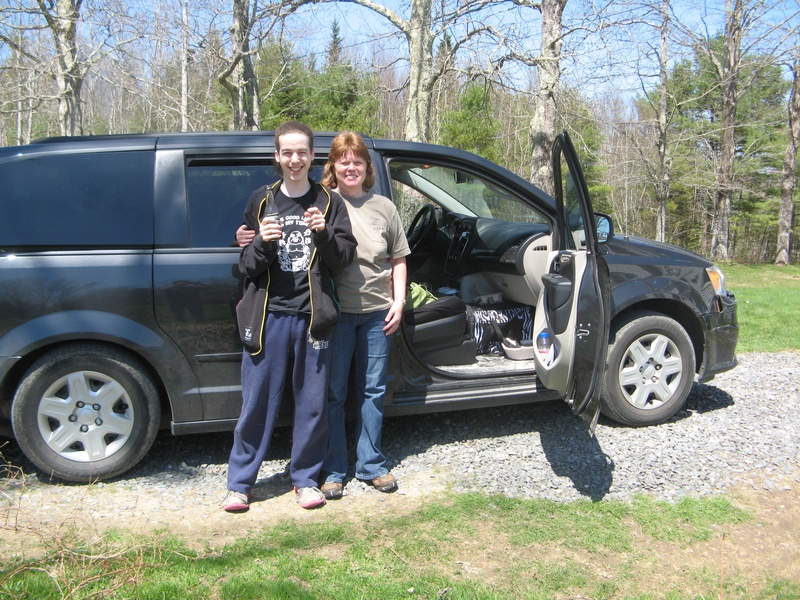 PICTURE:  FEATURES LIZ AND JAMES OUTSIDE THE CAR ON THE DRIVEWAY OF THE FARM - WE HAVE ARRIVED!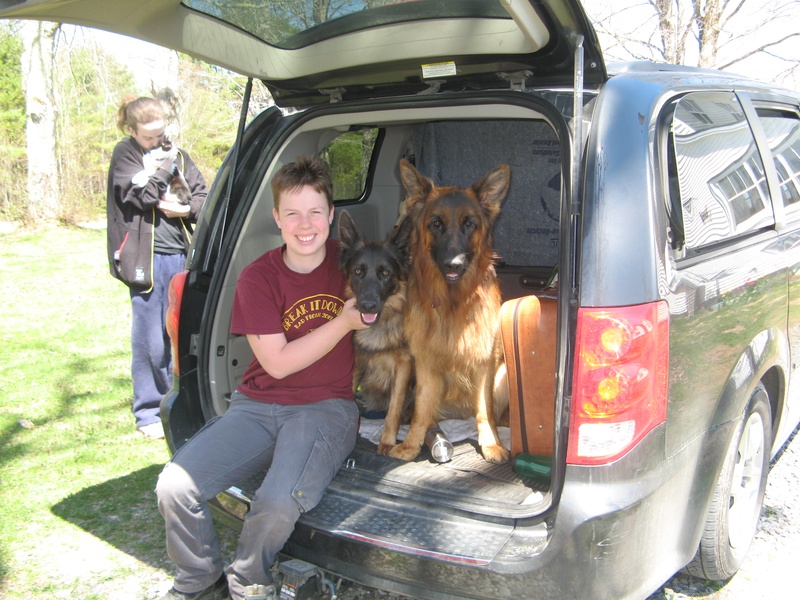 PICTURE:  FEATURES BRYONY SITTING ON THE TAILGATE WITH MR. ZANE ON THE RIGHT AND MONKEY ON THE LEFT.  JAMES IS OUTSIDE THE CAR CUDDLING MORGANA.
Postscript
We've been here three days now. All of our furniture arrived yesterday, which is yet another saga that we may write about some other time. For now, we must get back to the highly sanitary business of cleaning out a chicken coop containing at least five years of dried dung and straw. Suffice to say that we are having a thoroughly wonderful time, the animals all love it here and we look forward to seeing you all when and if you manage to visit!
Categories: None
/