| | |
| --- | --- |
| Posted on 16 February, 2017 at 7:55 | |
f you've seen anything on the news about the Maritimes and the snow we're recieving, believe us when we say that we spent about 3-4 hours digging ourselves out of the snow banks this morning. We received approximately a foot or two of snow from Monday's storm, but with the 100 km wind, there were massive drifts measuring up to four feet. Today Mother Nature is giving us an extra foot or so, just to top us off.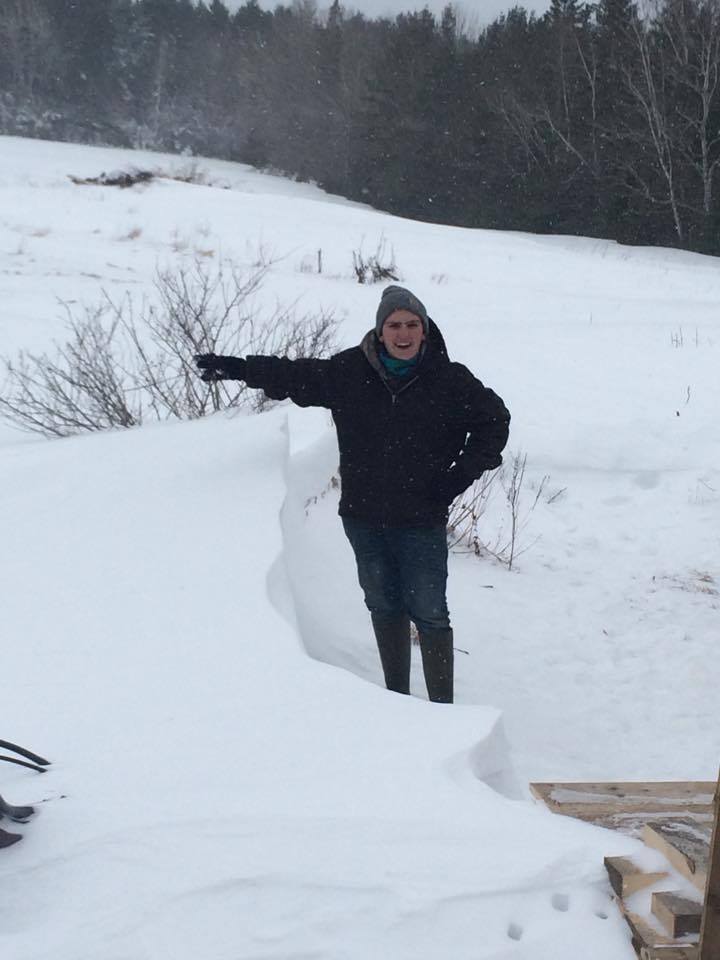 We hunkered down indoors the past few days, only venturing out to do the morning and evening chores, which was a day's worth of work in itself. The snow is so light and deep that each time you step, you risk sinking to your knees. There were many times we sunk in so deep that we gave up and sat down for a quick break - trudging through the snow is a lot of hard work!
While attempting to do the evening chores in the middle of the storm, Liz sank up to her waist in snow and was so stuck that Nic bravely jumped off our deck into the few feet of snow to roll over and save her. Then they proceeded to roll to the chicken coop as Chloe got on with the actual chores by walking, as most sensible people would do.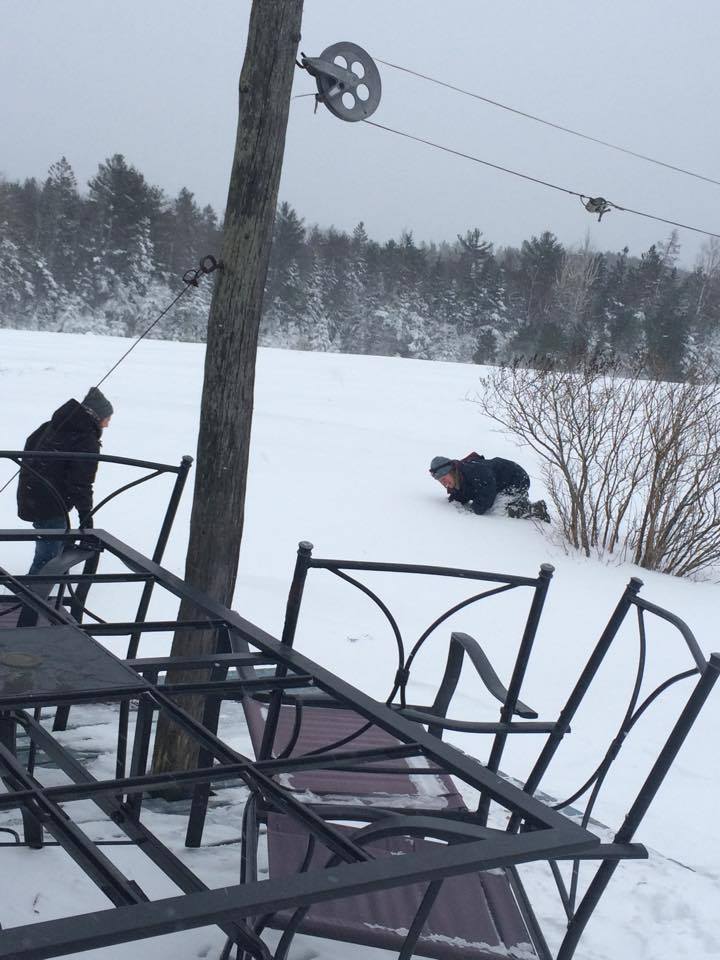 By some shot of luck - though I'm sure we're jinxing it by putting it in writing - we did not lose any power, thus staying warm and cozy with a steady supply of tea in our mugs. In light of situations such as these, we've started to take a serious look into solar energy and using it to power our farm.
The animals were generally unfazed by the snow. The terrible part about having dogs in Canada is that they still expect to go for 3 walks a day, even in a few feet of snow. The wonderful part about having dogs in Canada is that with a few feet of snow, they get tired ten times more quickly. Walking them up and down our driveway a few times in snow was equivilent to a 30-minute ball run. Also Riley pulls out the cross country skiis and glides over the snow with the dogs jumping around them in the field, which works wonders for Chloe and Liz, because they just sit inside and stay warm!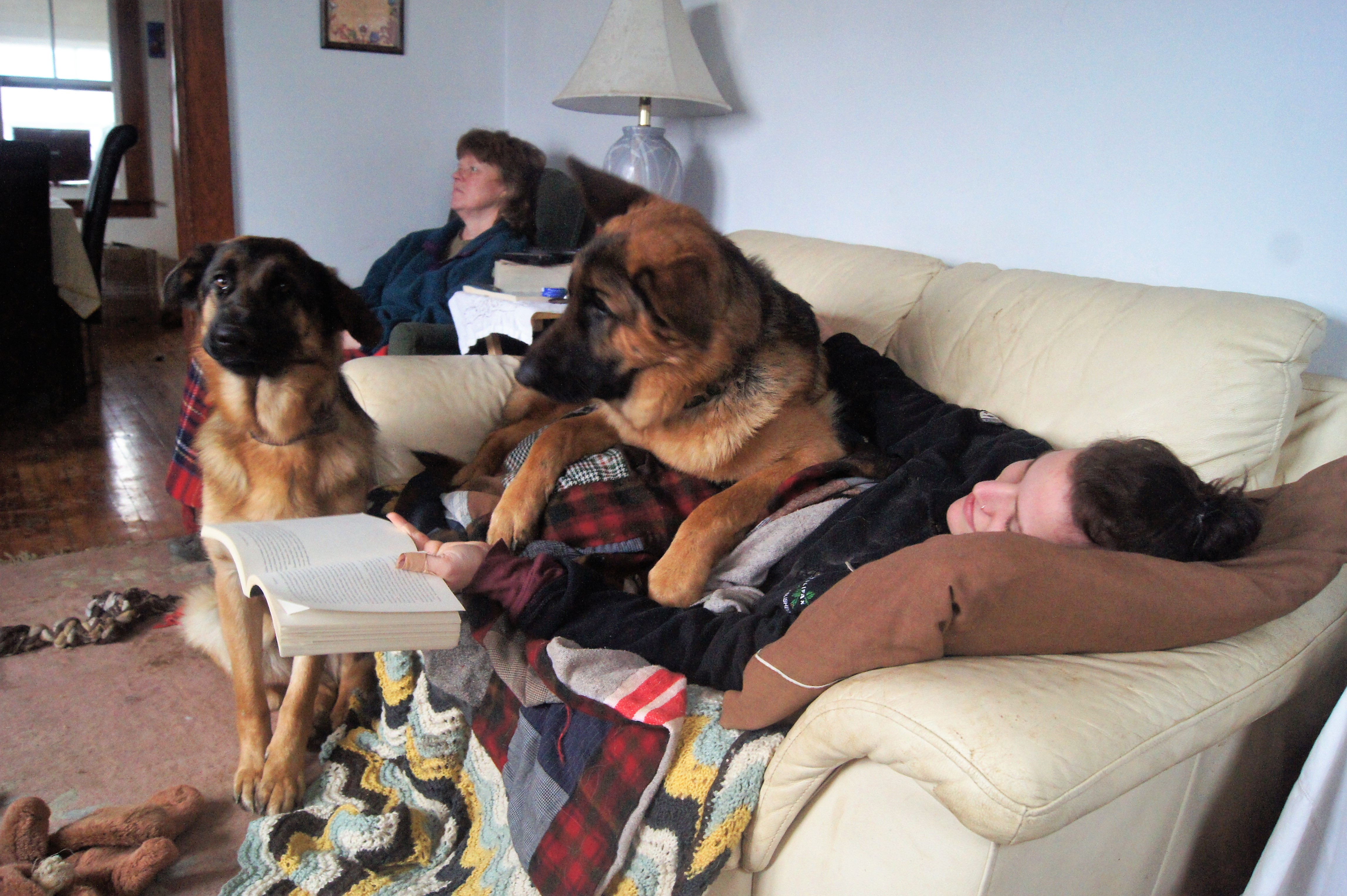 Once the winds from the storm died down and no more snow was expected, Riley hitched up the horses to our homemade snow plough  and the Fjords willingly ploughed the driveway and the route to the barn so that no one has to roll through the snow tonight, unless they really want to. When we were building the plough a few weeks back, we threw together a horse-drawn snow sled with leftover wood and pallets. Thanks to all of the snow, we were able to test it out on a nice sunny day last week. It supported all of our weight and we all had a wonderful time setting off into the sun.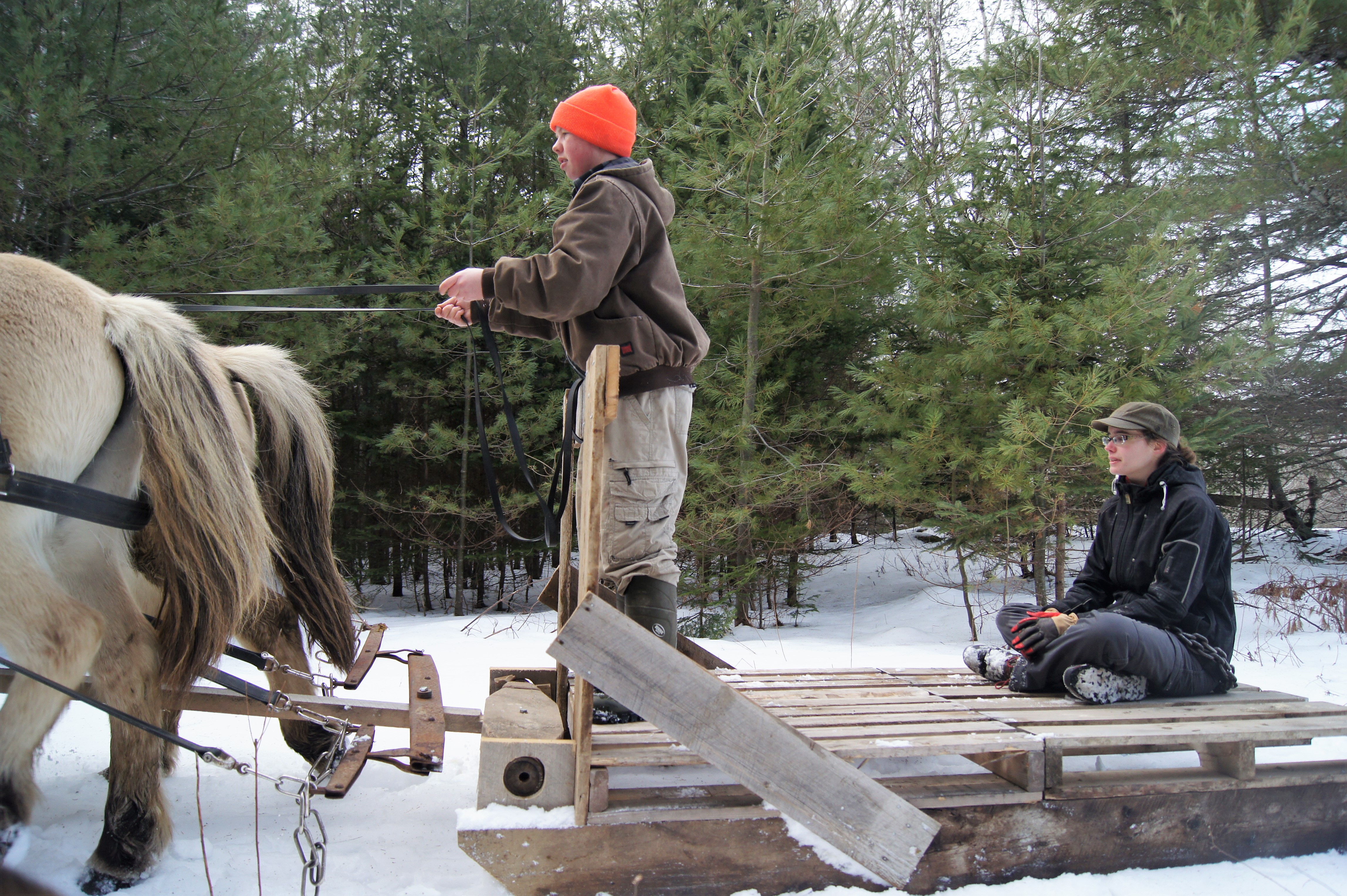 Seeing as we're occasionally stuck inside due to stormy weather, Chloe's artistic vision of the farm is finally coming true. With all this indoor time, everything is getting a new coat of paint - including the dogs, mostly because they rub themselves against the wall right as we do the finishing touches. What were once plain white walls, have now been transormed into soft blues, yolk yellow and a glassy sage green, and the dark stained trim is being freshened with white. A lot of the paint was left over from the previous owners of the farm and it is great to give purpose to it again. With a container or two of paint, we were able to revamp half of the house interior. We're also planning on investing in some curtains, and a few little inside projects to really personalise our cozy farm house.
Although many days of winter are slow, quiet and relaxing, those days are often contrasted with the hard work of logging. Riley and Chloe have been very hard at work cutting trees down in our forest to mill for our barn renovations. The pair go into the forest and cut down the necessary trees, then Riley tacks up the horses and has them drag the logs out and to our wood pile. No tractors necessary here with our operation! And to make it easier, Chloe has an old toboggan that they now use to drag the chainsaw equiptment accross the fields. We're working on training the dogs to drag it on our behalf, but we're still a bit far from that goal.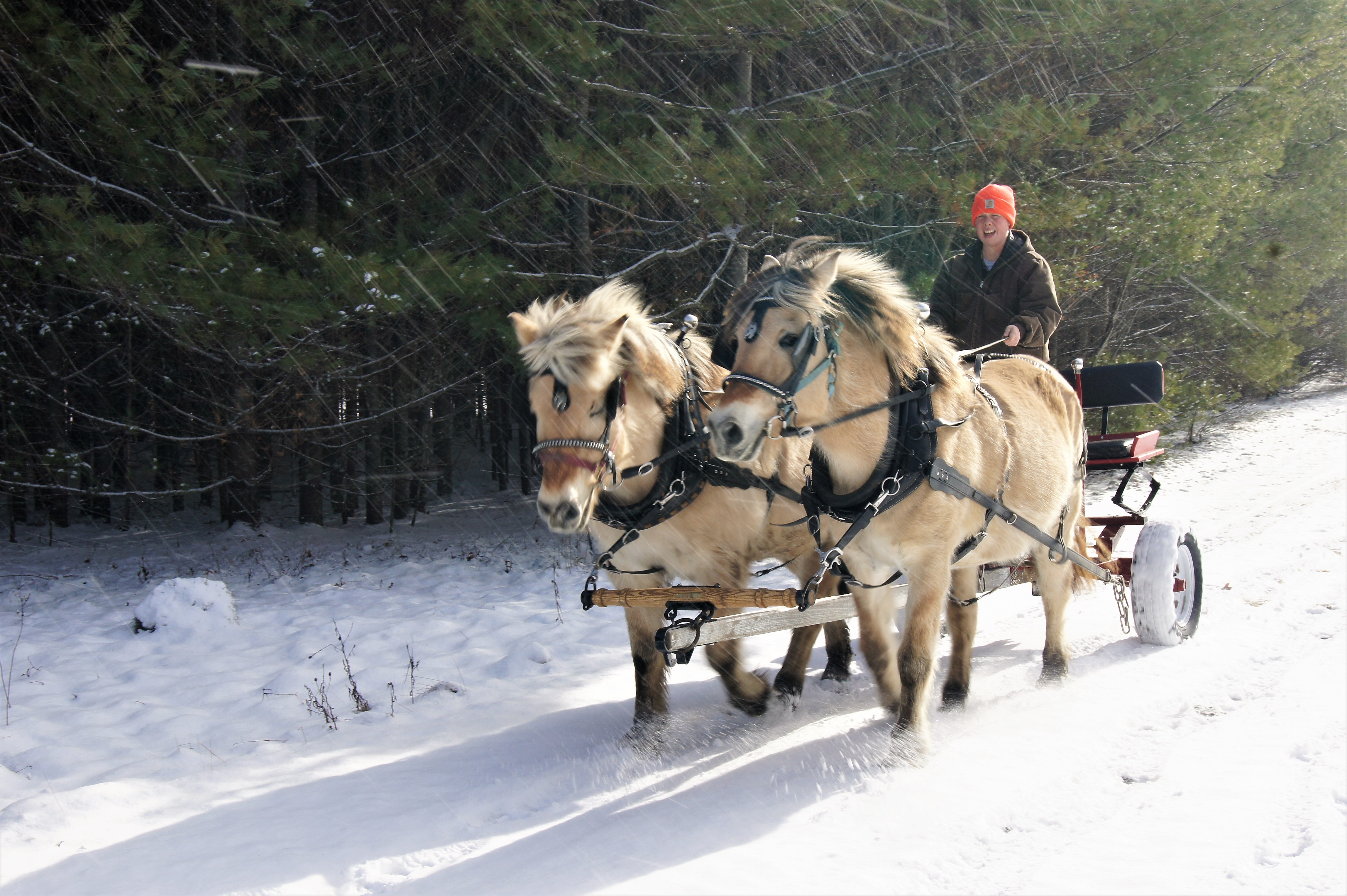 In light of all of this snow and the continuance of winter, our first volunteer is coming in March, reminding us that spring is right around the corner. We are most grateful for the relaxed pace we take in the off-season and the fact that it gives us time to experiement with crafts, soap-making, baking and new recipies. Riley has absolutely mastered the art of making bagels, and Nic is perfecting their recipe for herb and garlic cream cheese. We also made an admirable attempt at making lye for goat milk soap, but with trial and error we realised that winter is not the time to make lye water as it freezes. We've decided to resume that project in the summer when the temperatures won't ruin the experiment.
A neighbour of ours came by to help us out of a struggle Riley washaving with the chainsaw one day, and he mentioned that no matter the problem at hand, we at Rolling Hill Farm are alwayts in the best of spirits. Bad days and sad moments happen. We get snowed in, we have difficulties, things don't cooperate, the animals don't comply, we can't find the tools because no one puts them back in the right spot or there are no dishes because we forgot to run the dishwasher. But those moments when you get so stuck in the snow that someone needs to dig you out, or when you sink so far you give up and make snow angels, or just roll to the chicken coop because it's the option that sounds most fun, those are the moments that make everything worth while. They confirm our desire to live the life we do. They remind us why we chose this life, and why we continue to choose it every single day. Until next time, stay warm and stay positive.
Categories: None
/