| | |
| --- | --- |
| Posted on 31 October, 2016 at 14:20 | |
In the past month, Rolling Hill was a revolving door of folks coming and going. In less fortunate news, Liz took an impromptu trip to England due to a family emergency with her (almost) 101 year old father for 3 weeks. It was quite a bumpy road for both of them, but he has now been relocated to a lovely nursing home and is doing better. Her warming smile and uncanny cheer at 6AM was missed dearly and the house was in desperate need of dusting, but Riley and Chloe managed living the bachelor life for two weeks without pecking each other too much.
As mentioned in previous posts, Chloe has officially made the permanent move to the farm! They drove down from Ontario with a car load of stuff, including their partner Nic, father Earl, and a wee kitten named Macaroni (who has made best friends with Zane). While here, Nic and Earl fixed every door knob, step, pipe and wagon, as well as connected with the animals, helped with planting and learned loads from Riley about our horse powered operation. With them came an antique kitchen cabinet, a Hoosier, equipped with flour and sugar bins, a spice rack and a bread bin, we now have a place for all our cooking and baking needs!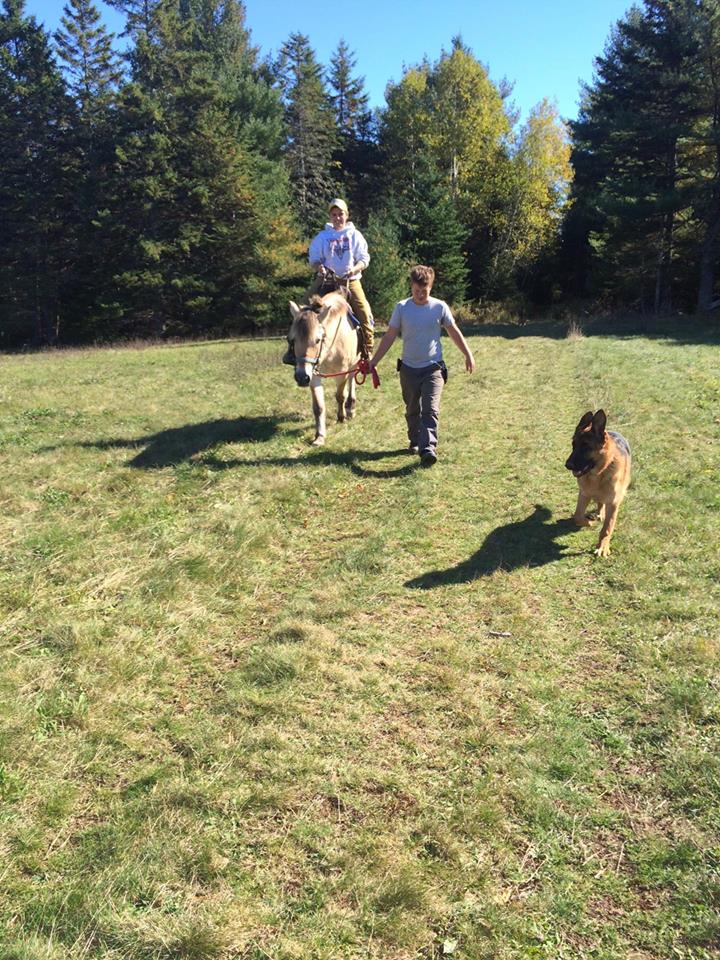 (Nic on their first horse ride with the assistance of Riley and a silly looking Marty.)
It was so handy to have extra help with small things that get pushed aside in the heat of the season, that we often just adapt with as we don't always have the time to fix them. We promise we didn't force a 'To Do' list upon them, they just wandered around the farm and made lists for themselves to do! Aside from working, the trio took a day trip down to Yarmouth, visiting all the Frenchy's and Tim Hortons on the way, and they spent a day butchering Thanksgiving turkeys with a farm friend of ours.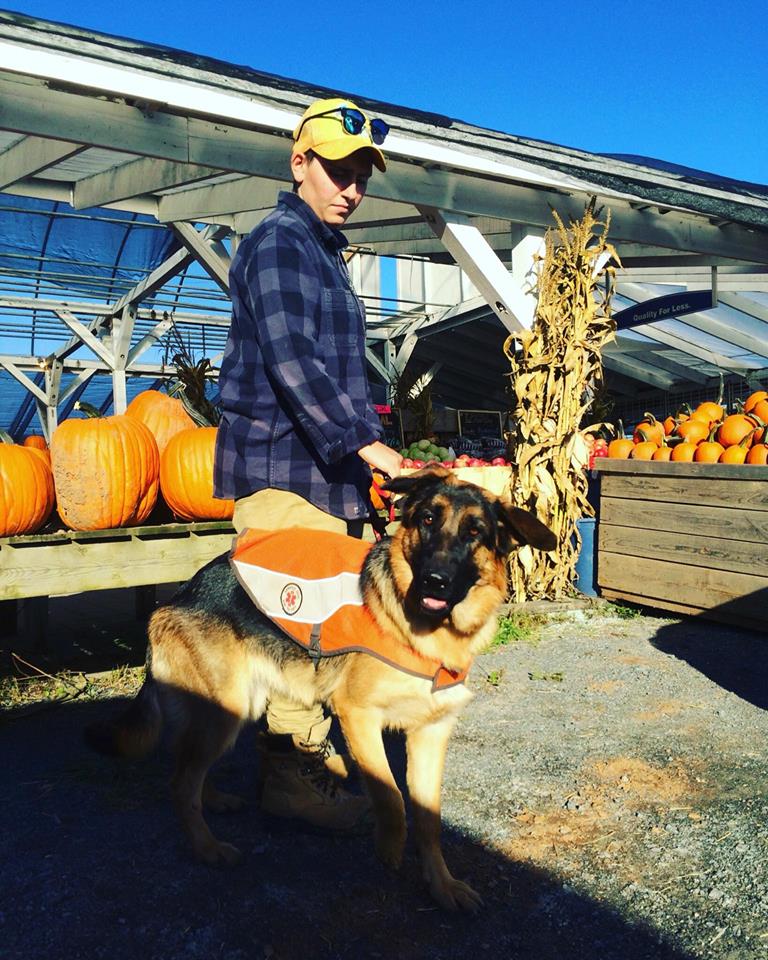 (Nic and service Mugsy on a walk in Halifax.)
While all of that fun was being had, Riley was hard at work ploughing and spreading manure over the fields for the fall garlic beds and to prepare for spring with help from our resident Fjords, Punk and Anders. Those two are truly fantastic with Riley as their teamster. They are now focusing their abilities on logging. Chloe and our neighbor have been chopping down trees that the horses drag up to the house to be junked, split and stored for winter! In addition to our two workers, we still have our special horse Gus, but had to return Bailey to his owner because he was becoming a bully, and an escape artist.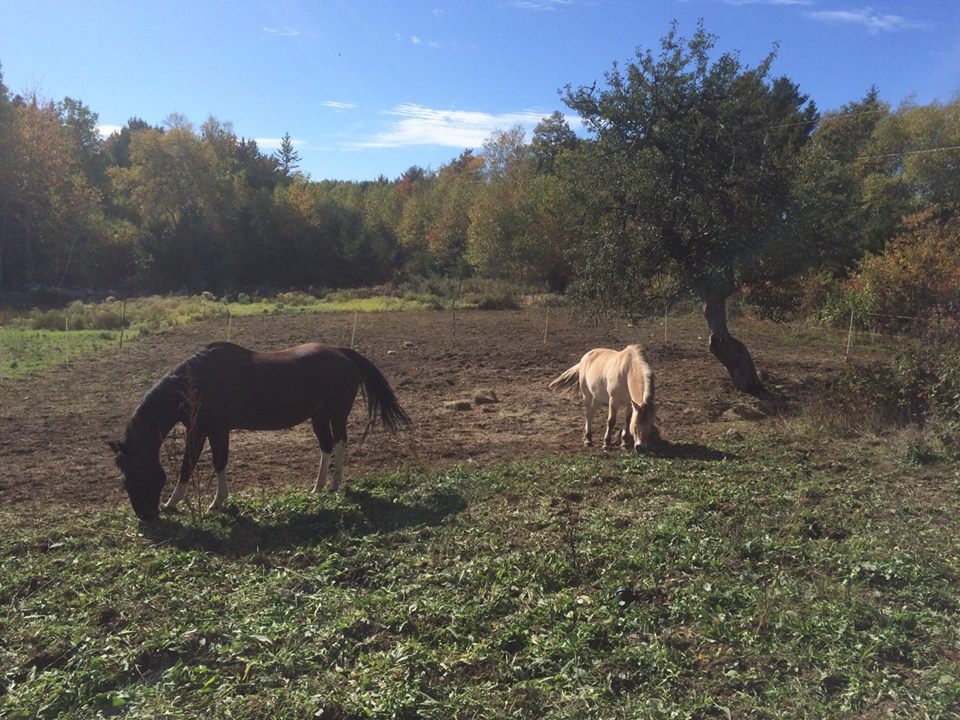 (Gus and Punk grazing in the field.)
On the note of animals leaving the farm, we have decided to get rid of all our dogs due to their incessant desires to escape the yard. Just kidding, unfortunately. But we have been documenting how many days its been since they last escaped, at one point we were going by the hour so we've improved a tiny bit. However, in the matter of weeks we will be slaughtering last years lot of egg laying chickens and our male chickens from this year, as well as our delightfully plump PigPig. Contrary to Liz's idea of getting rid of the goats, they will soon be ready to breed, birthing little bundles of joy in the Spring! PigPig is quite the impressive size!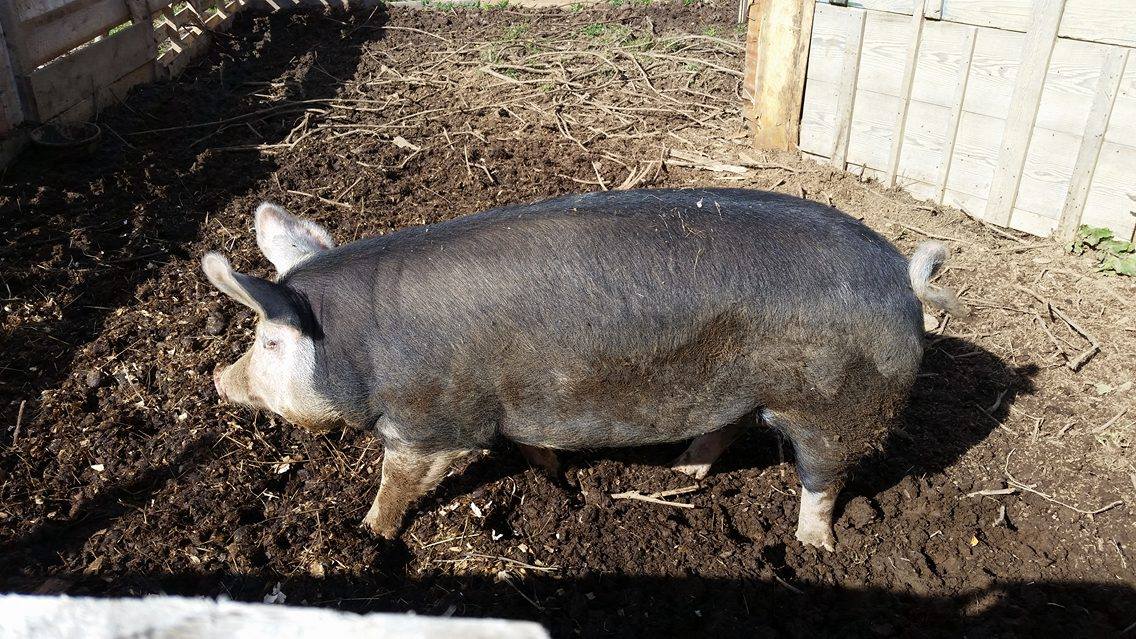 October marked the end of our first Farmers' Market season, and it was a delightful experience for us. We took the opportunity to network with others build a customer base and soak up all the knowledge and information we could to do more and do better in the 2017 season. We had bountiful harvests and generally sold out of our produce at the market and we plan to add variety and volume in the upcoming year. With squash, onions and sprouts happily growing now, we have finally ripped out our tomato plants and are planting spinach, cabbage and broccoli. Alongside the fresh veggies, Riley dedicated a whole field to growing beans, Chloe has canned everything into chutneys and chow and we have a field worth of potatoes to keep us going all winter long!
Unfortunately weaved into all the fun, we had to say many goodbyes this month. Aliette has returned to France while Nic and Earl drove back to Ontario, but luckily they will all be blessing us with their presences in the Holiday season.
We're currently working on harvesting, preserving, ploughing, manuring the fields, building a stock fence, expanding our winter wood piles for the upcoming months, and next year and the constant task of completing the trail to the lake! Almost every month is busy in some way or another, but after a slightly chaotic October of constantly running around the province, we welcome the blank page of our November calendar. Surely it will fill up as we go, but it will be nice to slow down and settle into the upcoming winter months. We are most excited to spend the next few months just the three of us (Liz, Riley and Chloe) until Aliette and Nic come back on a more permanent basis in the New year. Until next time!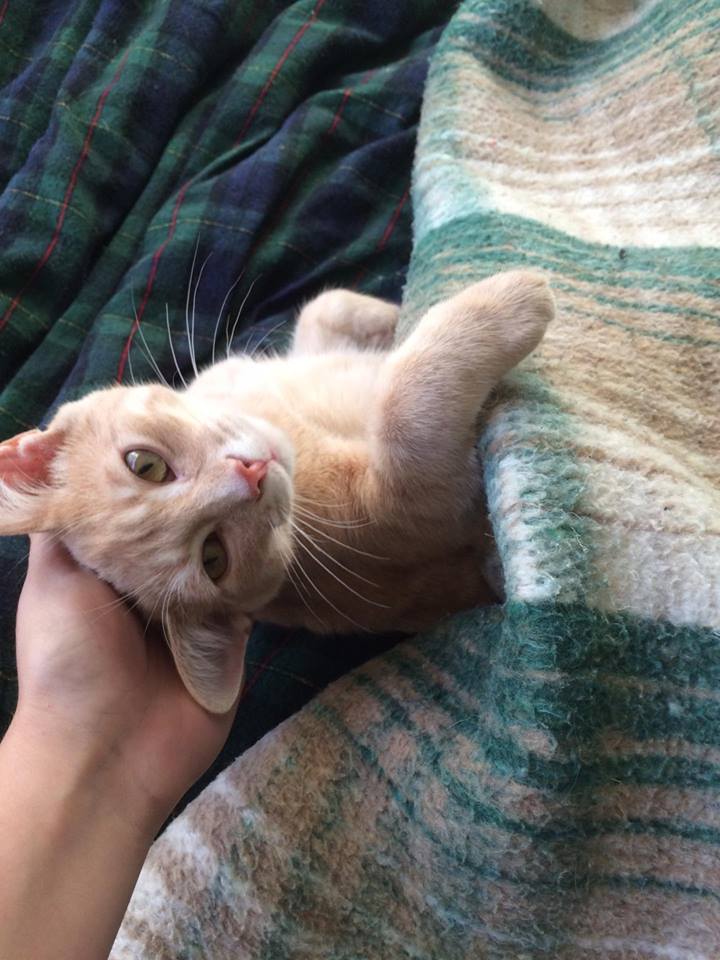 Our newest addition, Macaroni.
Categories: None
/