| | |
| --- | --- |
| Posted on 5 February, 2016 at 7:30 | |
There's a thing we're trying not to talk about, in the fear that saying its name might bring it back again. You may have noticed  a change in the level of white fluffy stuff upon the ground. We have too. As have the chickens, who had been refusing to go out and displaying signs of cabin fever, and are now joyfully bouncing around in their run. This will all soon change, I am sure, as we are forecast to get 10cm of snow this afternoon, another 10cm tonight, and then more as the week goes on. If you don't hear from us for a while, we've moved in to a quinzee.
Two new horses recently arrived, dubbed "The Little Ones" as they are both around 15hh, as opposed to the towering 17hh we're now used to. Their presence has definitely shaken up our herd dynamic but "The Big Ones" seem to be accepting them, albiet slowly.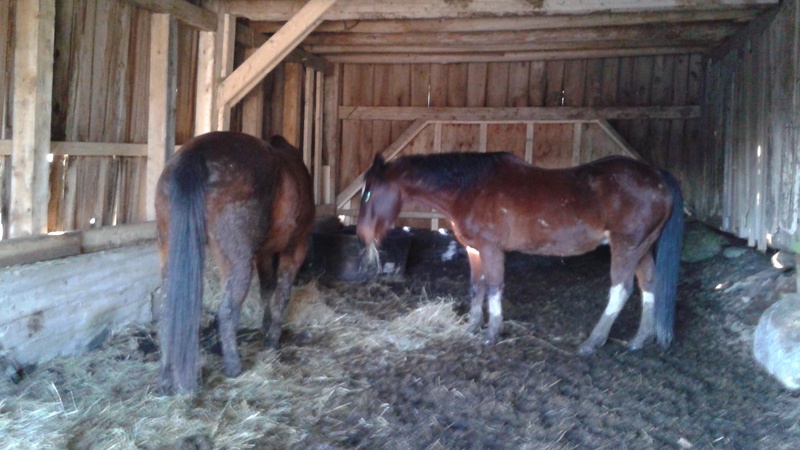 That's Bailey's bottom you can see on the left, and Gus is on the right.
Other additions to the category of new animal are two Saanen doelings. Despite complaining loudly for the past few months that she never wanted goats, that they smell and are excessive amounts of work, Liz has named them Ethel and Lucy and was spotted crooning soothingly at them this morning.
Lucy on the right and Ethel (with the horns) on the left.




In dog news, Merry recently developed a staph infection as the result of a flea allergy, despite the fact that all the fleas have been irradicated. The vet has her on three different medications to help clear it up, but the most traumatising part if that the vet had to shave her bottom. She says we're ruining her good looks.

Categories: None

0

/