| | |
| --- | --- |
| Posted on 12 November, 2015 at 10:50 | |
Where to begin? Every few days there are new and exciting things happening at Rolling Hill Farm! Our up and coming teamster Bryony began ploughing an acre for our new vegetable patch with the help of our horses and our friend Richard from Atlantic Draft Horse Supply. Together they spent the day in the field learning the proper ploughing techniques for horses, and despite the horses doing the labour, it's still hard work!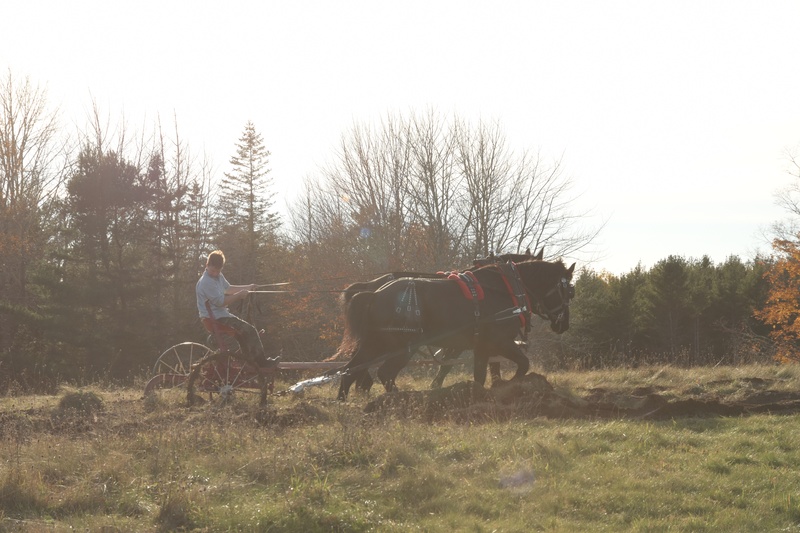 While the ploughing was underway, the volunteers managed to move the massive poly tunnel to a more appropriate area for the spring seedlings to begin their journey next year. Now it's placed in direct sun and close to water to keep them happy and healthy until they are ready to be planted in the soil (the seedlings, that is, not the volunteers!)
On that same – extremely busy – day, John(the carpenter) repaired the area of the barn in which the horses will be taking shelter over the brisk Canadian winter that is approaching, and Ronnie (who owns a bushwacker) mowed down our old hay field in preparation for a better crop next year.
Amidst the chaos, the apples are still being picked and processed with the help of our DIY cider press! It is absolutely delicious having freshly pressed juice with breakfast, from our own apples! Unfortunately we are still overwhelmed with the number of apples we have, and are actively searching for more processing ideas. This is merely a fraction of our collection.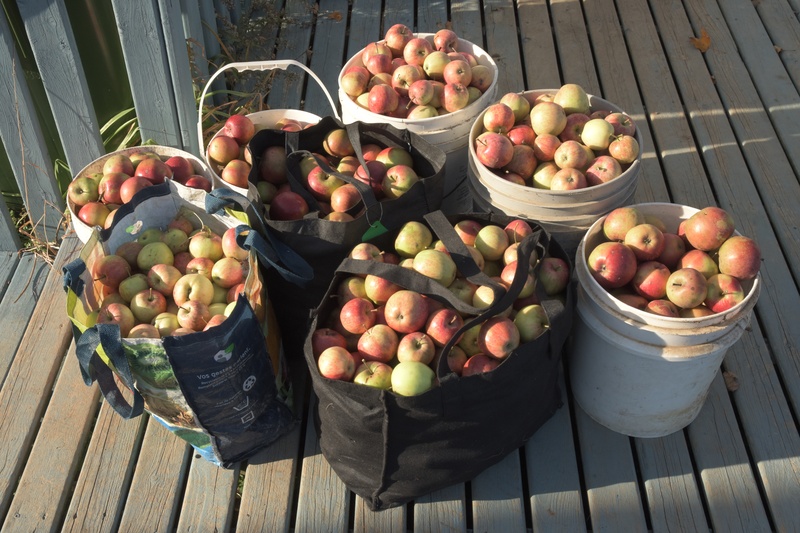 Chloe got creative with the left over green tomatoes that didn't fully ripen this year and prepared a green tomato relish chutney concoction; needless to say it was delicious. We also tried a Southern fried green tomato recipe which was a real hit amongst everyone. But the best part of all, our female chickens are soon to be laying eggs, while the male chickens are ready to be slaughtered.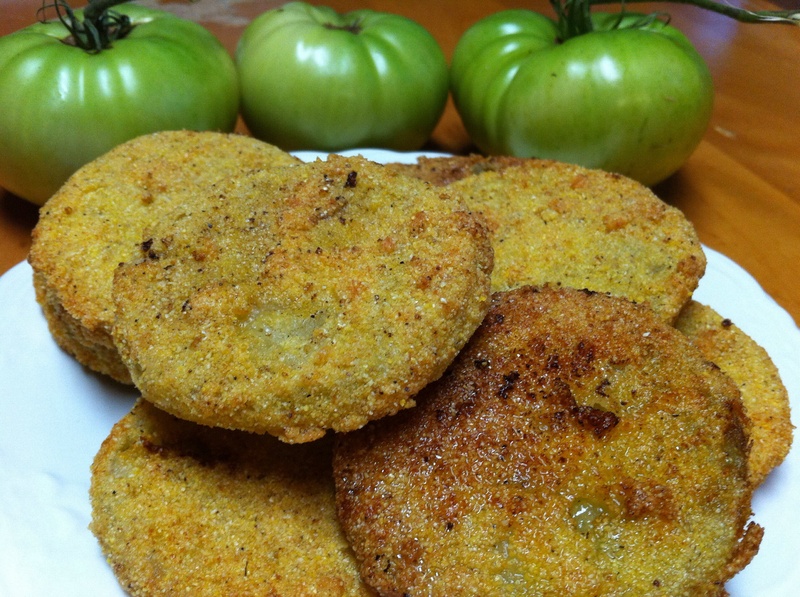 The rest of the animals are making life increasingly challenging. Merry underwent dental work and a cyst removal surgery earlier this week that was successful, with the exception of her incessant scratching at the stitches. Here is Merry looking extremely ridiculous in a t-shirt to prevent her scratching at the wound - but don't laugh, she's easily offended.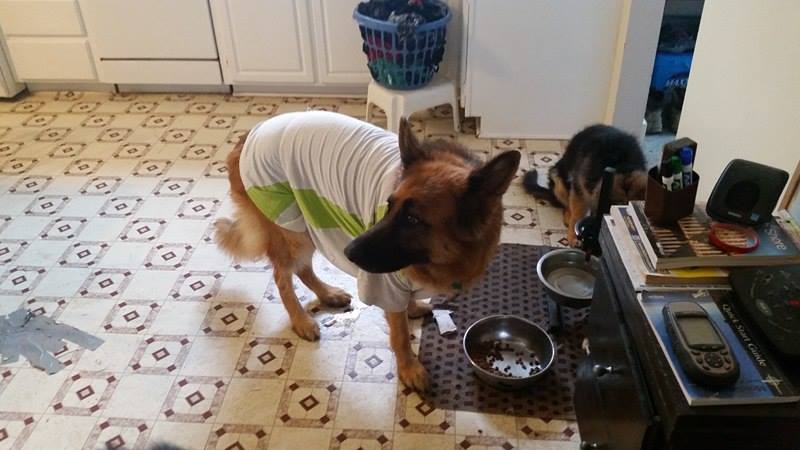 As we continue to monitor Merry's recovery, we realized that both her and Monkey are in season. All the dogs are gated off from each other in prevention of an unexpected litter, making Zane miserable and muddled as to why he can't mate with all the females who want to mate with him. Our little Misty, on the other hand, is full of energy and is chewing on his tail every chance she can, just to annoy him a little bit more. She has been getting lots of daily training with us and has graduated to walks without the limitations of a lead, as she is now responding to the various nicknames we have given her.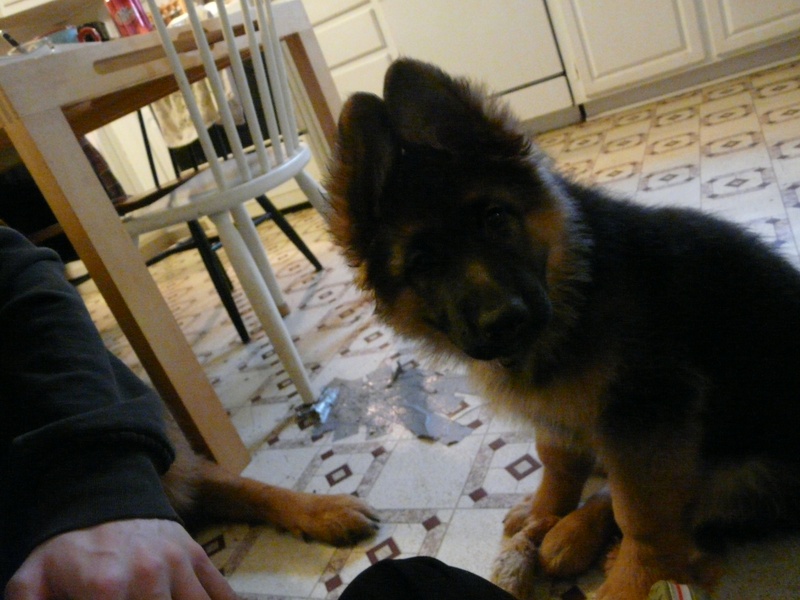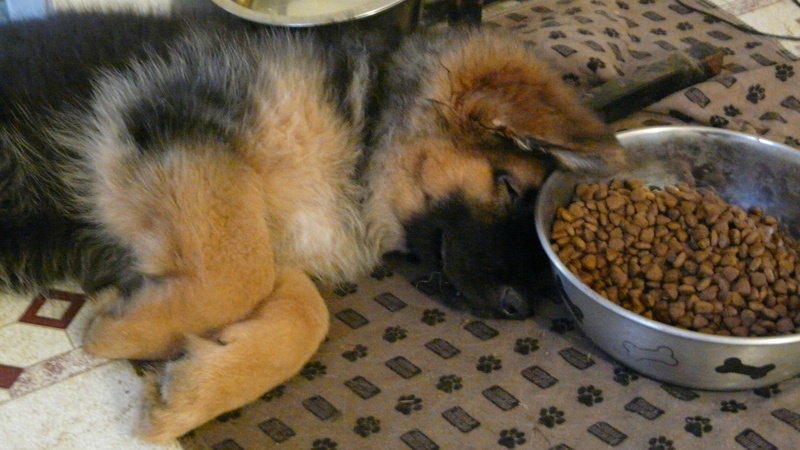 The upcoming weeks are going to be spent finishing the remainder of the Autumn Farm list, such as junking and splitting more wood, pruning trees, and ploughing the rest of the vegetable patch. Also, the Atlantic Canadian Organic Regional Network conference is approaching and we have decided to take a short family trip to PEI so we can attend! While there, we will be celebrating Chloe's 21st birthday and will likely be forcibly serenaded by self taught blue grass banjo tunes, as Chloe learns how to play the banjo without a teacher, but tons of dedication, and many reference books.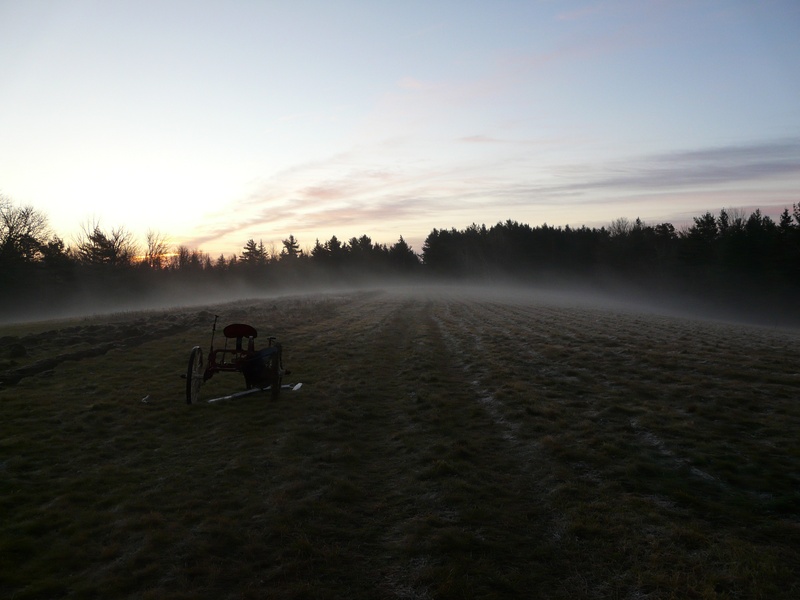 Categories: None
/